Attention A T users. To access the menus on this page please perform the following steps. 1. Please switch auto forms mode to off. 2. Hit enter to expand a main menu option (Health, Benefits, etc). 3. To enter and activate the submenu links, hit the down arrow. You will now be able to tab or arrow up or down through the submenu options to access/activate the submenu links.
National Center for Ethics in Health Care
Ethical Leadership

Fostering an Ethical Environment and Culture
Leaders strongly influence the ethical environment and culture of health care organizations, which, in turn, influence employee behavior. The Ethical Leadership component of IntegratedEthics® (IE) provides health care leaders with the practical tools and training they need to foster an ethical environment and culture that will make it easier for employees to "do the right thing."
The IntegratedEthics model of ethical leadership is organized around four compass points: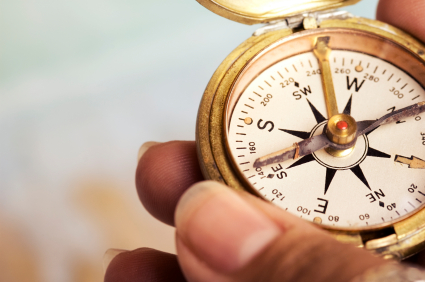 1. Demonstrate that ethics is a priority
2. Communicate clear expectations for ethical practice
3. Practice ethical decision making
4. Support your local ethics program

Are you looking for tools to positively influence ethical practices in your organization? Check out the IE Ethical Leadership Tools Guide.
---
Read
Ethical Leadership: Fostering an Ethical Environment and Culture – this primer explains the role leaders play in creating and sustaining an ethical culture in health care organizations, critical factors for success, and the specific behaviors leaders use to foster an ethical environment and culture. Intended for health care leaders at the executive and mid-manager levels.
Cohen JH, Foglia MB, Kwong K, Pearlman R, Fox E. How Do Healthcare Employees Rate the Ethics of Their Organization? An Analysis Based on VA IntegratedEthics Staff Survey Data. Journal of Healthcare Management, 2015 May-June;60(3):169-84. (Note: Readers must log in to the Journal of Healthcare Management to access this article.)
Foglia MB, Cohen JH, Pearlman RA, Bottrell MM, Fox E. Perceptions of Ethical Leadership and the Ethical Environment and Culture: IntegratedEthics Staff Survey Data from the VA Health Care System. AJOB Primary Research, 2013. 4(1) 44-58.
Bottrell MM. Ethics Quality Helps Build Healthy Organizations. Organizational Health, 19 (Summer 2013).
IntegratedEthics Policy - VHA Handbook 1004.06
---
Watch
Ethical Leadership: Fostering an Ethical Environment and Culture Video – 44-minute, interactive training video to teach viewers leadership behaviors that will help foster ethical leadership and culture.
---
Listen
Voices of Integrity – personal stories of VA employees who tell in their own words what integrity means to them as they work to serve Veterans.
---
Use
Tools to explain the role of the Ethical Leadership Coordinator
Instructions for the Ethical Leadership Coordinator
Triage Tool for Ethics-Related Leadership Decisions (complete three-document set) – tool to help leaders identify helpful resources and best approaches for an ethics-related decision. Instructions only Exercise only Tool only
IE Program: Status Check and Planning Tool – two-page tool to assist in assessing IE Program performance and identifying areas that need improvement
Tools to support the development of ethical leadership skills
Ethical Leadership Bookmark 2in x 8in, 3in x 5in
Ethical Decision-making Quality Check
Ethical Leadership Self-Assessment Tool (ELSA)
EL Interview Questions Tool – behavior-based interview questions for HPDM level 2-4 leadership candidates, corresponding to the Four Compass Points of Ethical Leadership
Ethical Leadership Tools Guide – designed to provide practical tools to positively influence ethical practices in your organization. The tools have varying time commitments ranging from a few minutes to several hours and are suitable for a variety of forums, including leadership and management meetings, committee discussions, facility emails, and personal use, and are listed based on the desired ethical practice you wish to promote.
Keys to Ethical Leadership – ethics toolkit for supervisors, originally developed by VISN 1 IntegratedEthics Advisory Board.
Ethical Leadership Curriculum (Faculty Guide) – based on the ethical leadership compass, this training curriculum is intended to help leaders develop new skills and behaviors consistent with ethical leadership. Includes slides, activities, and handouts for facilitators and participants. (Slides Handouts)
Tear Sheets on Ethical Leadership from IntegratedEthics in Action – articles highlight decisions, processes, and activities to help leaders of health care organizations foster an ethical environment and culture. Tear sheets can be used as educational emails, reprints in local or facility newsletters, or discussion topics for meetings.
Tools to improve plans to strengthen an organization's environment and culture
Action Kit: Demonstrate that Ethics Matters to You: Model A Regular Discussion of Ethics – this action kit explores two options for systematic approaches to ethics discussions: a topical ethics meeting and a book club. By staking out time for discussing ethics with supervisors and managers, leaders can reinforce a facility-wide commitment to ethics, demonstrate that ethics matters to them, and encourage staff to discuss ethics in the open and often.
Ethical Leadership Improvement Project Checklist – two-page checklist to guide design and implementation of strong EL improvement projects
Ethical Leadership Improvement Plan Summary – two-page worksheet to capture a concise snapshot of a completed EL improvement plan
EL Improvement Plan Summary SAMPLE 1
EL Improvement Plan Summary SAMPLE 2
Guidance for Strong Ethical Leadership Projects
Ethical leadership tips to support psychological safety
Practicing Integrity and Advocacy Using "3Ws" – 30-45 minute learning session designed to help all staff recognize their responsibility for asking questions about ethics, and practice questions about ethics in a workplace scenario (Facilitator Guide, Slides)
Action Kit: Quadrad Ethics Office Hours – designed for use by the facility director and other senior members of facility leadership, helps a facility to implement "Office Hours"—a strong practice that has been developed, tested and refined at other sites. Quadrad Ethics Office Hours provides a transparent, accessible and ongoing mechanism for senior leaders to hear about and handle ethical concerns from staff before they become triggers for a "whistleblower" event.
How to Follow Up on Ethical Concerns – this 30-minute group discussion activity helps leaders understand the importance of following up on ethical concerns and provides an opportunity to practice what to say to staff when an ethical concern is brought forward to leadership (Facilitator Guide, Slides).
Values-Based Meeting Ground Rules
Employee Ethics Tip Sheet – provides practical suggestions for how employees can support ethics and integrity in VA, and resources to help employees resolve ethics questions. Fillable format allows facilities to customize with local ethics contact information.
Employee Ethics Tip Poster – 11" x 17" size. Fillable format allows facilities to customize with local ethics contact information.
Ethical Leadership Tips – double-sided tips sheet to provide leaders quick and practical information about the Four Compass Points of Ethical Leadership. Included are examples, phrases, and discussion starters that leaders may incorporate into their daily work to enhance the ethical environment and culture in their facility or program office. (*Note that the document has been formatted to allow for double sided printing.)
Group activities to support ethical leadership skill development
Value-Based Ethical Leadership: A Theme in the Servant Leadership Model - leaders will develop skills consistent with the goals of both ethical leadership and servant leadership by identifying their personal values and how those values align with VA I CARE values. (Facilitator Guide, Participant Pre-Work, Participant Handout, Slides)
Peer Feedback Activity on Leadership Behaviors and the Organization's Ethical Environment – based on the ELSA, this 15-minute group activity allows leaders to obtain information from their peers on behaviors that have had positive and negative effects on their organization's ethical environment and culture
Journal Activities and I CARE Values Activities – activities designed to prompt group discussion of ethical leadership concepts and VA's I CARE Values
Ethical Leadership Quick Activities – a series of 15-minute activities that can be used to highlight and practice strong ethical leadership behaviors over a series of leadership meetings
IE Archive: Materials used in initial launch of VA IE program
return to top